Indy Sondh ft. Balwinder Mattewaria - Hogeya Sharabi (Video)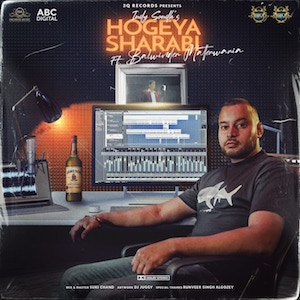 "3Q Records" & "3Q Media" proudly present Music Producer "Indy Sondh" with his debut single titled 'Hogeya Sharabi'. The song features vocals by "Balwinder Mattewaria."
The song features Algozey by "Runner (Runveer Singh)" and has been mixed & mastered by 'Suki Chand.' The lyrics for 'Hogeya Sharabi' have been penned by 'Bhinder Khanpuri' and the video has been shot by 'Rcovision.'
"Indy Sondh" was born and raised in Birmingham and began his musical career at the age of four. "Indy" started playing Dhol at family events which is where he also found inspiration to start DJing. At the age of fourteen he joined forces with "Kully Khera" from "Team XS Soundz" who gave him the opportunity to learn the art of DJing. He has previously released remixes online on Soundcloud and he enjoys mixing his favourite Bhangra songs with Reggae beats on the dancefloors.
"Indy" decided he wanted to work on his own project during lockdown and suggested an idea to "Bhinder Khanpuri." Once the song was written, he teamed up with powerhouse vocalist "Balwinder Mattewaria" who previously had hits like 'Kan Kar Gal Sun,' 'Ek Kuri Dil Legayi,' 'Nach Hun,' 'Pangha' and many more.
"Indy Sondh" & "Balwinder Mattewaria" have now come together to bring you a dancefloor track titled 'Hogeya Sharabi.' The audio & video is set for release on Thursday 15th September 2022 and will be available on all major platforms.
You can follow me at Follow @rupinder_rainer