Jaz Dhami & Karan Aujla - Bas (Video)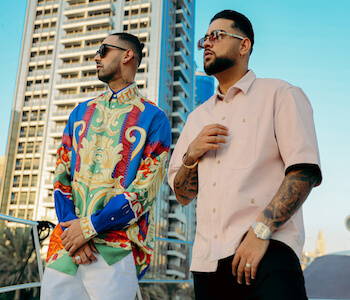 Jaz Dhami and Karan Aujla flip the script as they come together for this spring anthem, 'Bas'.
ʻBas' brings an arrogant male perspective to infidelity, with a light hearted hip-hop vibe, produced by one of the most happening producers in Punjabi music, Yeah Proof.
In the lead upto Karan Aujla's Way Ahead EP, he has written a cheeky response to creeping whilst maintaining his renowned reputation for swag. To compliment this Jaz has switched up his style with this punchy vibe, delivering an exemplary vocal as standard.
It's never easy to predict where Jaz Dhami will turn his attention to next, constantly showcasing his versatility and collaborating with artists he admires.
When two artists of this calibre come together, you know it has to be BIG. That's the reason it's taken them a couple of years to actually get the track they both wanted. Fans were anticipating a release in 2020 when they shot a video in Vancouver, on the brink of lockdown, for a track that was eventually scrapped.
They finally laid down a whole new song, one that Karan and Jaz felt would do justice to the collaboration, and brought it to life with an epic video shot in Dubai by Hector Toro.
Jaz Dhami adds "I feel like I've done a lot of experimenting the last few years, but this time, I'm giving fans exactly what they want from me. They will not be disappointed with this collab between Karan and I."
You can follow me at Follow @rupinder_rainer