Punjabi Movie LehmberGinni ft. Ranjit Bawa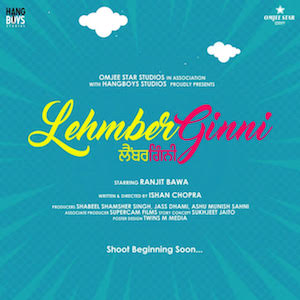 Omjee Star Studios in association with Hangboys Studios proudly presents the upcoming movie 'LehmberGinni.'
Over the past year the Punjabi Film industry has been extremely quiet. However, over the past few weeks artists have been preparing or started shooting for films.
The film will cast the famous Punjabi singer who has released tracks such as 'Phulkari' and 'Koka' and 'Impress' and starred in films such as 'High End Yaarian' and 'Mr & Mrs 420 Returns' Ranjit Bawa. It is written and directed by Ishan Chopra and produced by Shabeel Shamsher Singh, Jass Dhami, Ashu Munish Sahni and associate producer Supercam Films.
Shooting is yet to start however watch this space for more details!
You can follow me at Follow @rupinder_rainer