SimplyBhangra.com #Bhangra Songs 'June 2023'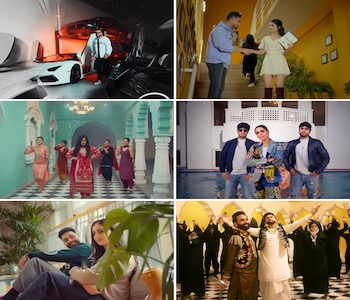 Every month we look back at the songs released in the past month so here are some of our #Bhangra #Songs of June!
One of the most powerful female singer's Jenny Johal releases the track 'Billi Akh' which has been composed by UK music producers Juss Musik. The song was written, recorded, produced and the video was shot all within 24hours in Dubai. They have also teamed up for another song which will be releasing in the near future.


The artist that became well known after the release of 'Top Notch Gabru' Vicky has released his album Road to Crore. An album to get you in the summer mode and to listen to during your long summer road trips.
If you liked Kaur B's 'Laija Laija' track then you should definitely take a listen to her new single '3 Saal.' This is song which many couples can relate to and the lyrics brings a lot of love but at the same time she is trying to express how she feels through her loving words which have been penned by Bablu Sodhi.
If you really listen to the deep lyrics many women would agree that its true. The music has been composed so well by Black Virus which brings an old touch.
Navaan Sandhu released the track 'Nai Bolna.' The track illustrates that she is angry with him however argues in a really nice way that he loves the way she expresses her feelings. He praises her so much by saying that she is the one that is there for me and brightens up my day even if she's upset with him.
Other songs released in the month were Bad Talk by Navjeet, Check It Out by Parmish Verma featuring Paradox, Folk Vibe by Sarbjit Cheema and Sukhman Cheema, Siftan by Ravneet, Nakhra Pricey by Rajvir Jawanda, Still by Nirvair Pannu and many more!
You can follow Us at Follow @Simply_Bhangra