SimplyBhangra.com Top #Bhangra Songs 'February 2020'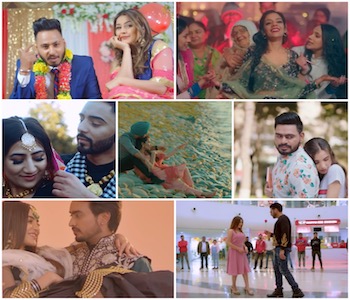 Every month we look back at the songs released in the past month so here are some of our top songs of February!
For all those that are soon getting engaged, AJ Dharmani's 'Mangni' is the perfect song. This exciting step in life opens many more doors and relationships. It starts changing one's lifestyle as they have to start looking at a bigger picture and life for the future. Not everything now is hanging out with friends and having fun.
You must all know the Gulabi Queen Jasmine Sandlas. Well, her sister Rosleen Sandlas who has directed many of Jasmine's songs has now released her debut track as a singer entitled 'Botal Vargi.' Confidence is her singing and great performance in the video shows she has so much talent.
Sudesh Kumari's 'Guzaare' is something very unique nicely produced by Inaiksbeats. If you take a listen to the track you will see that it sounds new and fresh just like the video by AKMI Arts.
After 'The Black Prince' Satinder Sartaaj will be releasing an entertaining, fun and romantic film 'Ikko Mikke' mid-March. He is well known for his Sufi songs however looking at the trailer to his forthcoming film we will see another side of Satinder Sartaaj. You may have seen this through the release of songs in the film such as 'Sharminda' and the title track 'Ikko Mikke.'
The master of romantic songs Prabh Gill releases 'Dil Vich Thaan.' It illustrates the power of love and how deep it can be which no one can take its place. They mean the world to them and it effects one emotionally and mentally.
Other songs released during the month were 'Khandhani Bande' by Dilraj Brar, 'Hawa' by DJ Rags ft Rani Randeep, 'Pink Pink Addiyaan' by Jigar ft Amrit Maan, 'Jab Hum Padheya Karte The' by Parmish Verma, 'Gallan Pyar Diyan' by Surjit Khan and many more!
You can follow me at Follow @rupinder_rainer