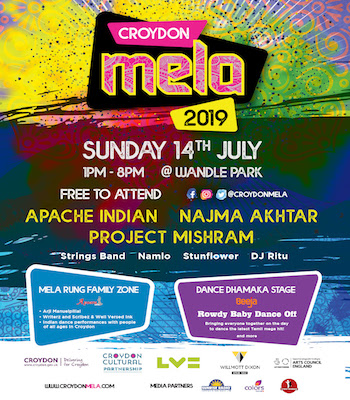 The countdown to a mass celebration of Asian culture, creativity and cuisine has begun – with just three weeks until Croydon Mela returns for 2019.
Headliners have now been revealed for this year's event which comes to Wandle Park, Croydon, from 1pm-8pm, on Sunday 14 July. Topping the bill are bhangramuffin star Apache Indian; dance music legend DJ Ritu; Indian rock group Project MishraM; Croydon reggae group Stunflower and Najma Akhtar, who will wow the crowds with a Sufi set.
For the first time, the mela has been programmed by an all-women crew from Croydon – Chetna Kapacee, Malti Patel and Anusha Subramanyam. With the community firmly at the heart of the festival, it will showcase the very best local talent alongside international stars.
With free entry and a fantastic array of food and entertainment for all ages, Croydon Mela 2019 promises something for everyone. Younger guests will enjoy the colourful Mela Rung Family Zone, produced by Malti Patel of Apsara Arts and Kathyrn Bilyard of Emergency Exit Arts. Highlights include The Bridge of Stories, an installation made of stories from people across Croydon; a performance stage for dance, spoken word and poetry; and the World of Imagination tent, with interactive performances and a workshop area for drawing and craft.
Anusha Subramanyam, of Beeja Dance, has programmed the Dance Dhamaka Stage to showcase some of the best dance companies from Croydon and beyond. Mela-goers can look forward to a mix of South Asian classical and folk styles, Bollywood, and international dance. The audience will even get to learn and practise classical and film dance moves.
Malti Patel said: "Croydon Mela is a perfect fun day out for all to enjoy amazing performances, get involved in workshops and enjoy the best Asian street food. It showcases the vibrant diversity of Asian arts and culture and offers something for every generation and every community."
Councillor Oliver Lewis, cabinet member for culture, leisure and sport: "Last year thousands flocked to Wandle Park for Croydon Mela and this year's event promises to be another huge success. With three Croydon women in charge of programming, we can look forward to a spectacular showcase of local talent as well as acts from around the world. "We're proud to support this as a fantastic celebration of our borough's rich diversity and a great day out for all the family."
Croydon Mela is supported by Croydon Council; Arts Council England; Croydon Cultural Partnership; LV, Wilmott Dixon. Media sponsors include Simply Bhangra; Sunrise Radio and Colors TV.
For more information visit www.croydonmela.com
You can follow me at Follow @rupinder_rainer