Urban Desi Events Presents Bhangra Basement - 8th December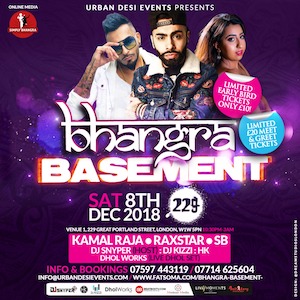 URBAN DESI EVENTS ARE BACK!!.. THIS TIME WITH A BANG!!.. CELEBRATING 1 YEAR ANNIVERSARY🎉🎁🎉🎁🎉
Catch Live On The Night Hitmaker RAXSTAR and BadBoy KAMAL RAJA

Supported by @theycallmesnyper @dj_Kizzi @djhkaymusic & DholWorks
LIMTED £10 EARLY BIRD TIX & £20 MEET & GREET
So We've Put Together A Line Up You Don't Want To Miss. One Of UK's Most Diverse Artist RAXSTAR And The Very Own BadBoy Of The Industry KAMAL RAJA.. BUT WAIT THERES MORE!.. We Are Also Launching A Brand New Artist "SB" On The Night & And Of Course Than Man With All Tunes DJ Snyper.
RAXSTAR
One Of UK's Most Decorated Artist. You Give A Beat He Will Give You A Banger!.. Raxstar Will Be Performing At Bhangra Basement And Is Also Giving His Fans The Opportunity To Meet & Greet Him Aswell.
Raxstar Known For His Flow & Delivery Will Be Performing Hits Such As:-
➡SIGNS - https://youtu.be/8khqK0rBHbE
➡Glass Ceiling - https://youtu.be/f6DHNpWOBE4
➡️Balwant - https://youtu.be/mpgVpHd9pN0
➡️Flirt - https://youtu.be/XbkXNu9Rhpc
➡Jaaneman -
KAMAL RAJA
The Original BadBoy Of The Industry!!. Kamal Raja Has A Track Record Of Racking Up Numbers On YouTube. Only Releasing One Song A Year?! Only He Can Pull It Off, So Catch Kamal Raja At Bhangra Basement Performing Live & Seeing Kamal Perform:-
➡THE DAM -https://youtu.be/miezy__jKUE
➡Havana -https://youtu.be/ZnBI14q5PjI
➡Trouble -https://youtu.be/pF3eE-9euKU
➡Bomb Bomb-https://youtu.be/pQ4CmdIjLu4
HOST ON THE NIGHT
🔊🔊DJ SNYPER🔊🔊
SUPPORTED BY
🔉🔉DJ KIZZI🔉🔉
🔈🔈DJ HK🔈🔈
ALSO LIVE DHOL PLAYERS ON THE NIGHT
🥁 🥁 DHOLWORKS 🥁 🥁
⭐️⭐️⭐️⭐️⭐️⭐️⭐️⭐️⭐️⭐️⭐️⭐️
————MRRA————
VALID ID REQUIRED. 18+
(Driving License Or Passport)
Dress Code: Strictly No Hoods, Caps Or Tracksuits!..
Smart Casual and Trainers permitted.
———————-————————
Early Bird Tickets: £10
Early Bird Meet and Greet, picture opportunities with all the stars : £20
Standard Tickets: £15
Stand Tickets Meet Greet, picture opportunities with all the stars: £35
VIP Seats for two with Meet and Greet and a bottle of CIROC : £230
Branding Promotion Sponsorship with VIP Seats: £500
INFORMATION HOTLINE
07597 443 119 // 07714 625 604