Get ready Vancouver to celebrate Diwali with Jazzy B!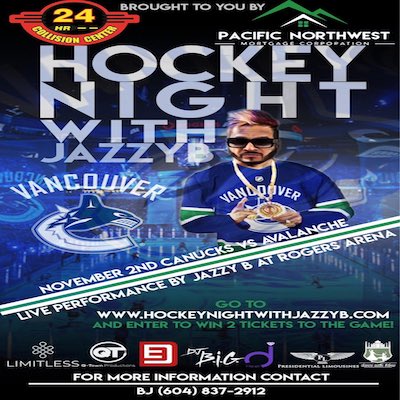 The Vancouver Canucks are once again celebrating the South Asian culture this year by announcing that they will be doing a Diwali event which will be taking place on November 2, 2018 when they host the Colorado Avalanche at Rogers Arena.
This event first started last season when they hosted the South Asian Celebration on March 29, 2018 when they hosted the Edmonton Oilers.
Last season the Canucks held the South Asian Celebration which featured several performances including DJ Heer who DJed on the plaza outside of Rogers Arena prior to the start of the game, a Bhangra flashmob from the South Asian Arts Society, special performance from Delhi 2 Dublin and an amazing rendition of the Canadian anthem from Indian Standard Time. Manny Malhotra and Robin Bawa were honoured during the ceremonial puck drop to kick off the night, a night where the Canucks defeated the Edmonton Oilers by a final score of 2-1.
This year it was announced that the team would be hosting another South Asian event, Diwali Night once again after the success of the event this past season. This time the event has become even bigger as the Vancouver Canucks have brought in the Crown Prince of Bhangra Jazzy B for a special performance. Jazzy B is a well renowned name in the Punjabi music industry and is known all around the world. Just 2 years ago Jazzy B was inducted into the BC Hall Of Fame which was a huge honour in itself. Q Town Productions DJ's, DJ Heer and DJ B.I.G. will be kicking off Diwali Night on November 2nd with Bhangra music on the plaza prior to the game.
"Popular activities in the South Asian culture will be featured throughout the evening including diyas painting, henna stations, and Rangoli artwork demonstrations on the concourse".
Hockey Night With Jazzy B is brought to you by the Vancouver Canucks, 24 Hr Collision Center, Pacific Northwest Mortgage Corporation, Limitless, Q-Town Productions, E3 Entertainment, DJ BIG, DJ Heer, Presidential Limousines, and Dance With Film-E