Perry K ft. Bakshi Billa - Door Door Nachdi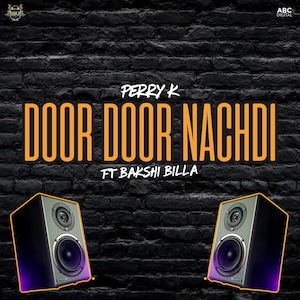 "3Q Records" & "3Q Media" presents the debut single of "Perry K" titled 'Door Door Nachdi' featuring the powerful vocals by "Bakshi Billa".
The lyrics for the song have been penned by "Jindi Matholewala" and the artwork & visualiser was created by "DXL".
About "PERRY-K"
"From the earliest days of my childhood, music was an integral part of my life. Growing up, the eclectic sounds of Bhangra, Bollywood, Ghazals, Hip Hop, Reggae, RnB, Jazz, and classical melodies filled the air in our household, painting the backdrop of my formative years. The influence of music ran deep in my family, with my cousins being none other than "Tigerstyle", renowned figures in the music industry.
I vividly recall being a wide-eyed youngster, perched in their studio, marvelling at their ability to craft captivating beats and melodies. At the tender age of 11, I took my first steps into the world of music, starting with percussion instruments and eventually gravitating towards the rhythmic enchantment of the Dhol. By the age of 13, my curiosity and passion for music led me to experiment with mixing tracks. I began layering different genres, crafting small remixes that bore the mark of my dedication to perfectionism. I aspired to create beats and mixes that would resonate with a wide audience and be appreciated for their ingenuity. My commitment to music deepened at the age of 16 when I acquired my first set of turntables. It was a pivotal moment, marking the start of my more serious pursuit of music.
As I ventured into the world of higher education, I delved into the club scene, taking my DJ talents to venues across the UK and beyond. My repertoire of events spanned raves, parties, and weddings, each experience adding to the mosaic of my musical journey. Over the years, I crafted numerous mash-ups and mixes, often featuring underground gems and, at times, full-fledged original productions. Collaborations with Off-licence and other artists saw my musical horizons expand, and my compositions found their way onto radio stations, resonating with a broader audience. By day, I assumed the role of an optometrist, but by night and every spare moment in between, music remained my sanctuary and unwavering passion. With a treasure trove of remixes to my name, I am now poised to share my musical creations with the world, eager to let my melody's echo far and wide, touching the hearts of those who lend an ear. I present to you, my debut single titled 'Door Door Nachdi' Ft. "Bakshi Billa".
You can follow Us at Follow @Simply_Bhangra