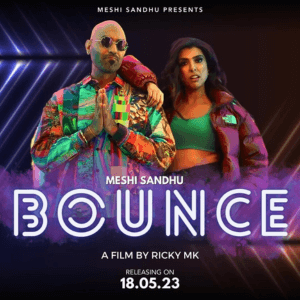 Out now is the track titled Bounce by Meshi Sandhu who returns to the music scene after 8 long awaited years.
Previously signed to VIP Records in 2014, Meshi released two singles 'Dil Mangdi' and 'Piche Piche' which were recognised worldwide.
Meshi explains his absence from the music scene: "It's been an exciting 8 years. I've taken time out for personal reasons including relocating. However, I've been working on numerous music projects in the background, working with some big artists. Covid did unfortunately play a big part in the delay of the projects as it restricted the completion of videos. But, I do believe everything happens for a reason, and I'm really excited to finally share what I've been working on".
The comeback project titled 'Bounce' has been written and composed by Meshi himself and the music done by the renowned DJ Lyan. As the sound of music has changed over the years, Meshi is returning with a different flavour compared to his previous releases.
"Bounce is a catchy, upbeat dance track that'll get everyone on their feet. I had a party vibe in my mind so when me and DJ Lyan were in the studio we cooked up something special. I'm really feeling it and I think the whole world is going to be feeling it too!"
Bounce will be available on all digital platforms from 18.05.23 and the video will be dropping on 20.05.23.
Click Here to Pre-Order The Single
You can follow Us at Follow @Simply_Bhangra