Bhatoa Saab ft. Pappi Gill - Bottle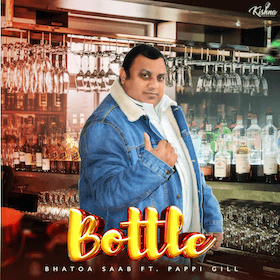 Out now the track titled Bottle by Bhatoa Saab featuring Pappi Gill.
UK based music producer Bhatoa Saab is kicking off 2023 with his new release called Bottle. The song itself is something out of his comfort zone and a completely different theme compared to the other tracks he has released.
The vocalist featured on the track is the legendary singer Pappi Gill who took the industry by storm with the song called 'Rang Kala' when he teamed up with Mukhtar Sahota. 
Bhatoa Saab has received some negative comments stating that he is promoting alcohol within the Asian community, he has commented with the following. 
"My upcoming song Bottle has already turned heads and people have assumed I'm promoting alcohol. I can assure you this is not the case, the songs I have produced have meaning behind them and this song is no different. I would urge everyone to wait for the song and listen to the lyrics. Thanks for the all the support and a massive salute to SimplyBhangra for supporting me with my releases". 
He said towards end the of 2022 he was busy preparing for 2023 and has a lot of music on the way with vocals from well known Punjabi vocalists. He added that he does have a surprise in store for everyone this year and he has achieved personal goals by working with artists he grew up listening to. All music is being released on his own label 'Kishna Productions' please do subscribe and follow. 
You can follow Us at Follow @Simply_Bhangra