Tank ft. Jellio DBI - Nachu England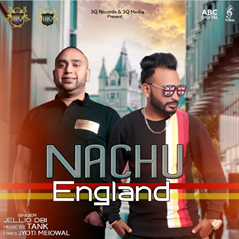 '3Q Records' & '3Q Media' proudly represent "Tank". After the success of his previous projects "Birthday" and "Singh Tera". "Tank" is back with his brand new single titled 'Nachu England'.
The song features vocals by 'Jellio DBI' and the lyrics have been penned by 'Jyoti Meiowal'. The video has been shot in India by 'Sonu Sekhon' and in the UK by 'Bilal Sayeed Productions'.
"Tank", a huge fan of The Immortal 'Late Ustad Kaka Bhaniawala Ji' unfortunately wasn't able to collaborate with him before his untimely death. During lockdown "Tank" and his team were searching for new talent to collaborate with and they came across upcoming vocalist 'Jellio'.
'Jellio' was born and raised in Ludhiana, Punjab. He began training to be a vocalist in 2006 by learning from his Ustad 'Late Kaka Bhaniawala Ji'. 'Jellio' continued developing in his craft by live touring and sharing the stage with artists such as 'Kaka', 'Meet Malkeet', 'Mandeep Kaur' & many more. This would lead him to building his own profile by releasing cover songs and eventually his own singles. "Tank" & 'Jellio' have now come together to bring you an exciting dancefloor single 'Nachu England'
You can follow me at Follow @rupinder_rainer