Subaig Singh - Hard To Get (Out Soon)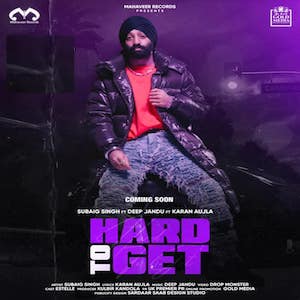 You all ready for a UK/Canada collaboration🔥 - Subaig Singh next single 'Hard To Get' releasing very soon, fetauring lyrics by Karan Aujla and Music is by Deep Jandu!
Asking Subaig Singh what his thoughts were on Progression and evolution are becoming boring, what do you as an artist think about this? How important is it to experiment with new sounds rather than the regular, favourite traditional bhangra?
He quoted I wouldn't say progression and evolution are boring at all. Quite the opposite. It's more boring to be stale and stagnant, and keep doing the same stuff again and again. That's the case for me, anyway. I get bored easily so I need a change and like to shake things up regularly.
Some artists have had great success doing this same thing for 20 years so I don't want to knock them. I definitely have my favourite genres... traditional folk and Bhangra being right up there. As much as they are my personal favourite genres, even I would get bored of repeating the same old stuff, again and again.
Check out Subaig Singh release Brotherz a Popsy Music Production in the meantime!
You can follow me at Follow @rupinder_rainer