DJ Dav ft. Late Surinder Shinda - Big Loss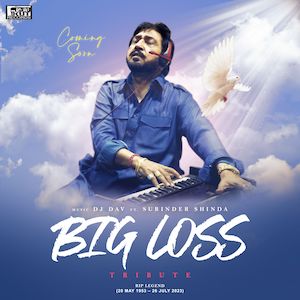 Final Kut Entertainment present the Tribute song titled "Big Loss" featuring the vocals of the legend Late Surinder Shinda and the Music is by Dj Dav.
Final Kut Records present the Tribute song titled "Big Loss" featuring the late legend Surinder Shinda featuring Music by Dj Dav.
Dj Dav quotes, "I always challenge myself, to ensure that I work on a sound that is unique to each of my releases. This is my tribute track to Surinder Shinda Ji. He was an amazing artist and loved by millions across the world. It was a great honour working with him. This song is to highlight his great vocal talent. His music will live on forever and i just wanted to do something special for him. May he rest in peace"
About DJ
Having being Envy Records / Roma 2's PR Manager Dj Dav went on to release his first single "The Jatt Anthem" featuring Surinder Shinda. Dj Dav also released a single called "Thokha" featuring Surinder Shinda on Final Kut Records. Dav has gone on and released many songs in the last several years.
He held residencies at many of the major hotspots around the UK and was well-known in the scene for his unique scratching techniques, headlining alongside world-renowned artists including Panjabi MC, RDB, Panjabi Hit Squad, Desi Dark Child, DJ Sanj, Dr Zeus, Dippa Dosanjh, Radio 1's Trevor Nelson, Steve Smooth Sutherland and Damage.
A popular DJ Roadshow later, he developed a curiosity for production, to progress his musical career on to a different medium.
We hope you enjoy this beautiful tribute song.
You can follow Us at Follow @Simply_Bhangra