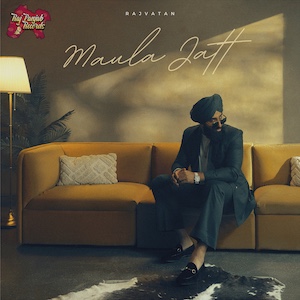 Out now is the track titled Maula Jatt by Rajvatan, lyrics have been penned by Ranbir Jhajj and the Music is by Humble Kid via Raj Panjab Records.
Rajvatan Singh - best known as a professional fashion model who rose to popularity through his shoots with magazines such as GQ India and with Punjabi artists such as Diljit Dosanjh, Tarsem Jassar and Navaan Sandhu.
For the past year, he has been working hard towards becoming an upcoming Punjabi music artist. In terms of his music, he is mostly known for his successful singles 'Whip n Drip' directed by Rupan Bal and has experienced yet more success with his most recent single 'Clique' directed by Fatboy Records and Raff Sappera which is turning out to be hugely popular across all music platforms. It has had multiple plays on BBC Asian Network as well as an exclusive interview with Jasmine Takhar on her show 'BBC Introducing artist'. It has also been featured on the latest BBC Sounds list.
Moving forward, he has just released his brand new single called 'Maula Jatt' which came out on Thursday 11th of May. With its somber music and a minimalistic, aesthetically-pleasing approach to the video, 'Maula Jatt' has a summer vibe.
Contrary to his previous singles, Rajvatan has decided to create something unique with this song where the mood is intended to be romantic with an artistic flair. The music video has been directed by Vyran Dhindsey, under the banner of Raj Panjab Records which you can find on Rajvatan's YouTube channel.
You can follow Us at Follow @Simply_Bhangra