DJ Dav ft. Jaspal Rana - Proni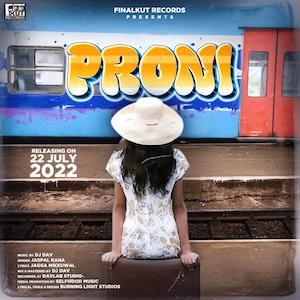 DJ DAV is kicking of the summer with his debut come back single track PRONI Ft Jaspal Rana!
"Unflinchingly honest, earnestly positive, and resolutely single-minded artist / DJ" – DJ DAV "DJ DAV has cemented himself as one of the most exciting (and consistently great) British bhangra DJ who has many experiences live and in and out of the studio with great mixing ability"
"Flipping the music-world DJ Dav has single handed set up his own record label so he can reach out to world massive audience where no one attempted to play bhangra styles he has without missing a beat"
DJ DAV is kicking of the summer with his debut come back single track PRONI Ft Jaspal Rana a new singer that has been unveiled today with lyrics written by Jagga Nikkuwal. "PRONI", the single is very influenced by hip hop whereby DJ Dav grew up in the Era where every kid on the block was ready to step into the game and become a Dj that wanted to play break beats and mix the music. Finalkut Records has huge anticipation for the release of the debut come back single PRONI with its unique fresh hip hop bhangra style that Dav is an expert in. Dj Dav released many tracks in the early days of bhangra which have be with leading artists on Envy Records such as DJ Sanj.
The release of "PRONI" follows the unstoppable success of last single titled "THOKA" ft Legendry Surinder Shinda", which peaked at number 10 in the UK iTunes charts and spent several weeks in the playlists of many radio stations (as well as going globally on iTunes, the success for Dj Dav was phenomenal whereby he had moved out into Europe due to popular demand, a signed resident Dj in and around in Costa Del Sol SPAIN. He was in Costa Del Sol for over 4 years mixing bhangra with all different genres of music performing in front of non-Asian crowd).
It's this extraordinary journey to where Dj Dav finds himself now that is encapsulated in his own styles of production. For the next chapter of his music career Dj Dav has decided to start releasing his new material after years of gigging. Stepping back into the studio wasn't something that he planned, but during Covid19, all shows where cancelled leaving no time to waste but to really knuckling down and go on music lockdown and make some serious music by trying to create more bhangra anthems.
Finally, Finalkut Records would like to thank worldwide radios for supporting all the music releases in the past and hopes this will continue in the near future too. We thank all pro DJ website who also promote our music and not forgetting the fans because without you guys it wouldn't be possible to do what we do. Thank you to Selfhood music for media promotion and burning light studios for the amazing cover and video.
You can follow me at Follow SimplyBhangra.com