Desi Dark Child - Bandook Wargi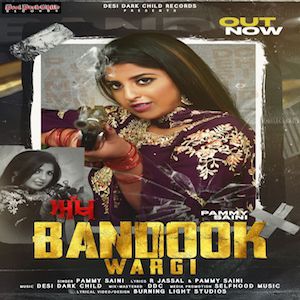 Out now is the track titled Bandook Wargi by Desi Dark Child featuring vocals of Pammy Saini.
Desi Dark child records are proud to announce its first release of 2022. The new single "ਅੱਖ BANDOOK WARGI" will fire up the dance floors as this is sung by none other than power voice, Pammy Saini a new singer.
It is my estimation that few good songs come out in the UK industry as there is a lack of support from radios and DJ's however a very small minority do a good job in supporting new music. My new song will endeavor to change this mindset by positively influencing the media industry as I am reaching out to EVERYONE for support who genuinely love bhangra music. The music and entertainment industry needs to open doors as well as think outside the box in order to survive as too many artists from India are dominating the UK industry whereby one time UK was seen to have lead fashionable music.
My vision is to be ALL inclusive, my new production and mixing and mastering tries to leaves no room for error. This song demonstrates my passion and seriousness as a music producer utilizing a small group of talented artists. I hope you will enjoy and appreciate the uniqueness that this single brings to you, whilst showcasing my varied music and composition. I would like to thank all the music lovers and everyone involved in this song. A hearty thanks to all media genres who have supported our past and present catalog of music! God bless everyone and stay safe!
For enquires:
This email address is being protected from spambots. You need JavaScript enabled to view it.
www.facebook.com/raj.jassal.731
www.soundcloud.com/desidarkchild
www.twitter.com/desidarkchild
You can follow me at Follow SimplyBhangra.com