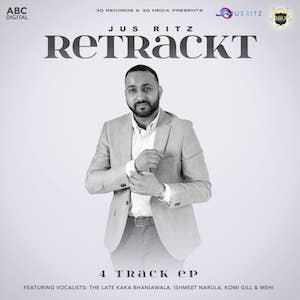 '3Q Records' & '3Q Media' presents "Jus Ritz" with his brand-new EP titled 'Retrackt'.
The EP features vocals by 'Komi Gill', ' The Late Kaka Bhaniawala', 'Ishmeet Narula' & 'Mehi'. The lyrics for the EP have penned by 'R Bhagatpuri', 'Gurmukh', 'Dimple Toor' & 'Jeevan Mann'. The project has been mixed and mastered by 'Nin Matharu'. The EP will deliver a music video shot by 'Rcovision' for "Thali" and the remaining tracks will have visualizers created by 'Siayn Digital'.
T
Track listing:
1. Jus Ritz - Thali Feat. Komi Gill
2. Jus Ritz - Hikk Feat. The Late Kaka Bhaniawala
3. Jus Ritz - Bhangra Feat. Ishmeet Narula
4. Jus Ritz - Deewana Feat. Mehi
'Ritz' would like to dedicate this EP to all his supporters – past, present, and future. 'Retrackt', inspired by all the good times UK Bhangra has provided over the years and we wish to continue that journey. The EP features 2 x UK and 2 x International vocalists with distinctive styles to try and cater to all listeners.
You can follow me at Follow SimplyBhangra.com