Sunny Sian ft. 23Boywhistle, Hunterz - Lit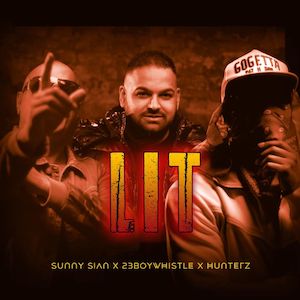 'Lit' is the debut single by Sunny Sian a very exiting new artist from the UK who is under the guidance of legendary music producer / singer / composer Hunterz.
Sunny who is from Leicester, has been working very hard in the studio with Hunterz over the last 2 years, recording alot of songs which he will be releasing over 2022 and beyond!
The song ' Lit ' features Hunterz & 23Boywhistle a rapper / songwriter who is also an artist to look out for!
The song has been produced and composed by Hunterz with the panjabi lyrics penned by Rupinder Sandhu who is part of Hunterz 's team.
' I am very happy to be working with an artist like Sunny, I feel the music industry ( especially from the UK ) needs new artists to come and add more quality rather than quantity to the scene and Sunny will do just that ' quotes Hunterz
You can follow me at Follow @rupinder_rainer