Bambi Bains ft. Afro B - Beautiful Girl (Sohni Kuri)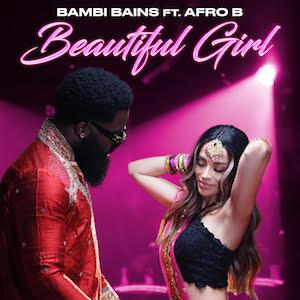 AFRO B and BAMBI BAINS have come together to produce the first English, African and Indian fusion with a hope to break barriers across cultures and people.
Writers: Bambi Bains and Afro B
Producers: JRocs, Shaan & Verinder and Shaye
Released by: Big Bounce
"London is made up of so many different backgrounds and we wanted to create a song that appealed to everyone regardless of background or ethnicity whilst embodying elements of each culture" said Bambi. "I love African food and its culture and I've really enjoyed learning about new sounds."
A figurehead of the trending Afrowave sound sweeping the UK, London artist Afro B makes music that fuses unique combinations of dancehall, hip hop reaggae and Amapiano.
After the global success of Joanna (Drogba), Afro B launched his first major single which saw him enter into the popular Amapiano genre released in December 2021. Beautiful girl is Afro B's first foray into a new sound that pulls from cultures outside of African heritage.
Bambi Bains comments,"Ive always been a big fan of Afro Beats music and Afro B is an artist I have always wanted to work with. Its been so much fun to work with him and we are really happy with the sound we have created."
You can follow me at Follow @rupinder_rainer