Noopsta ft. Rush Toor - Universal Drip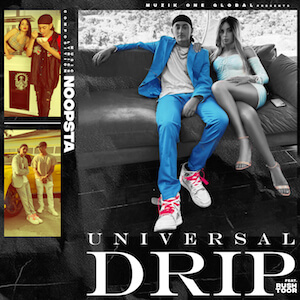 Noopsta is all set to release his new single on all streaming platforms "Universal Drip featuring Rush Toor"
Noopsta who is popularly known as the son of Manj Musik RDB & Nindy Kaur launched himself into the industry at the age of 10, in 2017 with his debut track "You Can't Stop This Party" featuring the worldwide well known Raftaar and Humble the Poet. Then in 2020 he released his first full album showcasing his Music Production skills with a host of artists from across the globe. Since then Noopsta has now grown to a young man taking the industry by storm with his Hip Hop production and lyrics and taken to the mic himself with his own production.
The music and lyrics are done by Noopsta himself and the video has been directed by his father Manj Musik. The video is produced by The Hit Machine UK and is releasing under Muzik One Global label.
This track is intended to not only hit the South Asian audiences but also to the non-South Asian audiences, as it has the production and video to cross platforms worldwide. Noopsta is now 15 and ready to take over the world with his production and upcoming singles!
QUOTES -
Manj Musik "I'm so proud of Anoop for the artist he's becoming as he's creating his own individual sound and learning everyday how to become a better producer. I hope people appreciate all the hard work he's been putting into his music."
Nindy Kaur "Being a mother is a gift in itself but seeing Anoop grow in his life both personally and professionally has made me proud. He is a Kind, talented, caring young man and i cannot wait for him to share his musically talent with the world."
You can follow me at Follow @rupinder_rainer