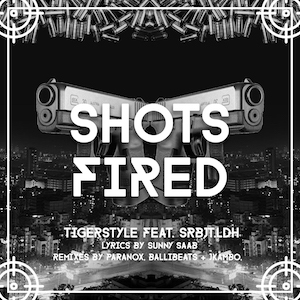 Back again with no prior warning. Tigerstyle's new single, Shots Fired is packed full with plentiful bass, warps, lazers, dramatic strings and gunshots galore!!!!
A playful combination of Hip Hop, Trap, Drill and Drum n Bass, laced with that essential Punjabi folk music element create the Scottish Sikh Duo's latest offering, "Shots Fired".
This release comes with an instrumental version for upcoming artists, djs and beat lovers alike, alongside remixes by Indian-Electronic genius Paranox, Norway's production prodigy BalliBeats and Glaswegian maestro JKambo.
Tracklisting:
01 Shots Fired (Original)
02 Shots Fired (Instrumental)
03 Shots Fired (Paranox Remix)
04 Shots Fired (Balli Beats Remix)
05 Shots Fired (JKambo Remix)
You can follow me at Follow @rupinder_rainer