Subaig Singh ft. Popsy Music - Fatteh Chak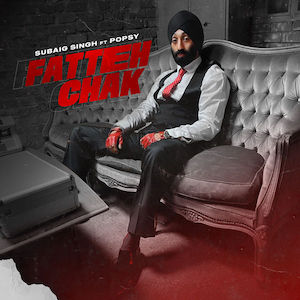 Produced by Kulbir Kandola of Mahaveer Records, Lyrics by Happ-E-Singh and music by Popsy The Music Machine, Subaig Singh's new track is titled ''FATTEH CHAK''.
The song, produced by Popsy The Music Machine, oozes with attitude and urban swag with its heavy baseline and 808 kicks. It's a sound that was popularised in North America and is now making waves throughout Panjab. Yet again, Subaig brings a different style to the table by alternating deep low-pitched vocals with a powerful chorus hook line that is both memorable and catchy.
'FATTEH CHAK'' leans into a totally different direction for Subaig in both sound and presentation. The music video, shot by Drop Monster, depicts a slick diamond dealer that has struggled hard to reach the top and is now enjoying the fruits of his labour. He credits his friends for always having his back and helping him succeed. Indeed, anything is possible in life if you have the right team behind you, as the lyrics, written by Happ-E Singh, clearly express.
The video also features some of Subaig's impressive martial arts skills. Subaig is well known for his background as an ex-professional MMA fighter, but this video demonstrates Subaig's great skill and control in wielding a samurai sword.
You can follow me at Follow @rupinder_rainer