Jus Ritz ft. Raj Kaul - Tere Na Te Glassy (The 2021 Refix)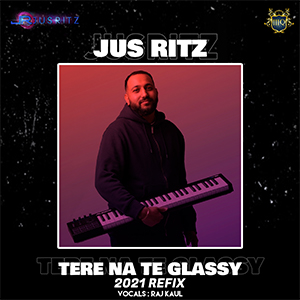 3Q Media proudly presents "Jus Ritz" with his brand new 2021 Refix of 'Tere Na Te Glassy'. The song features vocals and lyrics by "Raj Kaul". The lyrical video has been created by "MK Visuals".
2021 marks the return of UK Bhangra Music Producer and Composer "Jus Ritz". 2009 was the year "Jus Ritz" entered the music scene with his debut album 'Jus The Beginning' which included the songs 'Tere Na Te Glassy', 'Nehio Nibhani', 'Boliyan' + more. "Ritz" also worked on a handful of singles shortly after with 'JD Varga' (feat. "Raj Kaul"), 'Jaan Dhena' (feat. "Bakshi Billa") and 3 songs on "G Deep"'s album in 2015.
After taking a break from music production and focusing on the wedding scene, DJ'in throughout the UK and the world "Jus Ritz" has been back in the studio working on tracks for the UK Bhangra lovers. Watch this space!
'Tere Na Te Glassy' audio & lyrical video is set for release on all major platforms Monday 5th July 2021. The audio will also be available as a FREE Download via Soundcloud.com!
You can follow me at Follow @rupinder_rainer