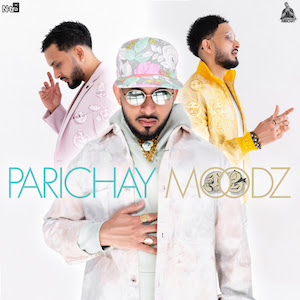 Parichay drops his long-awaited album 'Moodz' and what an album it is!
'Moodz' is a 10 track monster album that delivers on every level and for every mood and it's an amazing culmination of Parichay's musical career spanning several years and music styles. From soulful tracks, desi hip-hop and Latin flavours to an EDM anthem and even a Bollywood item song!
The first track off the album is the peppy 'Dildariyaan' featuring top Bollywood playback singer Jonita Gandhi who has previously recorded tracks for films including Ae Dil Hai Mushkil, Dangal, Pink, Dishoom, Highway, Chennai Express and many more!
Four brand new super high-quality videos accompany the album which is composed, arranged and produced by Parichay. Other featured collaborations include Happy Singh, Haji Springer, Joe Louis, Mr Maxx, Farah Mitha, Ferzaana and The Gunsmith!
The album is very close to Parichay's heart and it's been a long journey: "I've been through a rollercoaster of emotions over the past little while and I've literally poured out those vibes & Moodz into songs, which you will hear on this record."
The album even features custom emojis on the artwork to represent the mood for each song and a range of merchandising is to follow featuring the slogan #MyMoodzMyRulez.
The album was funded in part by FACTOR, the Government of Canada and Canada's private radio broadcasters and the result is epic.
Parichay says: "Moodz is hands down my best music to date and that includes 3 studio albums and numerous Bollywood tracks. If there is one thing I could change on this album, it would be NOTHING. I have never ever been able to say that before!"
Moodz is OUT NOW (7th May 2021) on the Chay Productions/N-tro Records label and available via digital stores streaming platforms globally.
You can follow me at Follow @rupinder_rainer