Jaswinder Daghamia, Dilraj Brar, TJ - Unity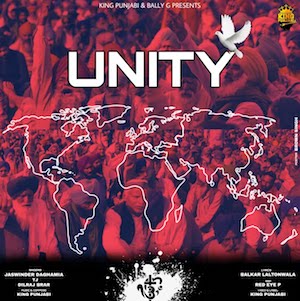 Bally G & King Punjabi release a new track called 'UNITY' featuring Jaswinder Daghamia,Dilraj Brar, TJ
Unity is a track that captures the human spirit to Stand up and Unite against oppression from dictators and fake media. It's a rally to get people from different walks of life, race and religion to come together and Unite to stand against the system.
The music is produced by King Punjabi featuring the maestro vocals of Jaswinder Daghamia, an established and popular singer who has had numerous hits worldwide.
The song is written by multi award winning UK based lyricist Balkar Laltonwala who has consistently penned chart topping tracks for various artist over the years.
The song also features Punjabi Vocals by young and upcoming talent 'Dilraj Brar and TJ' both hailing from Southall (the heart of UK bhangra). With alongside rap by the Southall based talent 'Red Eye P'.
Dilraj has been in the industry for a number of years who started his singing career with a bhangra group called 'Baharan Punjab diyan' and has also featured in Punjabi movies.
TJ is a up and coming unique vocalist who has the talented ability to sing on both desi and commercial platforms, TJ will be dropping his debut album later this year and will be an artist to watch out for in 2021. The song also features rap by Red EYE P who is a talented rapper who has had a passion for music from a very young age and has collaborated in the past on a track with the late legend ghazal singer 'Jagjit Singh'.
It was a massive opportunity and experience for these homegrown talents to feature alongside the multi talented Jaswinder Daghamia.
You can follow me at Follow @rupinder_rainer