Roma Sagar - Official Story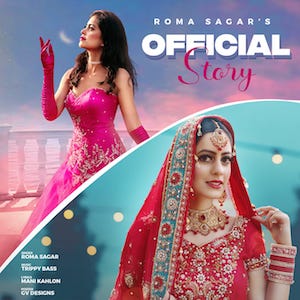 Official Story by Roma Sagar is a Punjabi love song about a girl's desire to tie the knot and declare her relationship official.
The song has a dreamy and romantic feel to it, making it perfect for easy listening. The lyrics are penned by upcoming and very talented Mani Kahlon (cousin of Tru Makers who have worked with the likes of Sidhu Moosewala and many other artists).
The Punjabi lyrics are merged with a fusion sound of music by Trippy Bass, from Amsterdam. Trippy Bass has managed to bring his own flavour to the song by making the music sound very current and chilled. Sticking to her fusion theme, Roma Sagar hopes to bring a love song which stands out in the Punjabi market and connects to youth as well as the mature audience. Sit back, relax and enjoy this one.
Roma sagar released her debut single 'Tere Bin (I Just Want) ft Rishi Rich, which reached the top 10 of the world charts. Roma Sagar is a versatile singer/ songwriter who sings in Punjabi, Hindi and English. She describes her style of music as a fusion (east meets west).
Since her debut Roma has worked with the likes of Ikka, Raxstar, H-Dhami, Ramji Gulati and many more established artists. Roma has released singles with record labels in U.K and India such as T-Series and Zee Music and is now establishing her own label and brand 'Roma Sagar' as an independent artiste.
We are currently working on future collaborations and many more songs which will be revealed soon! Watch out for this emerging artiste who promises to bring a different flavour with each song she releases.
You can follow me at Follow @rupinder_rainer