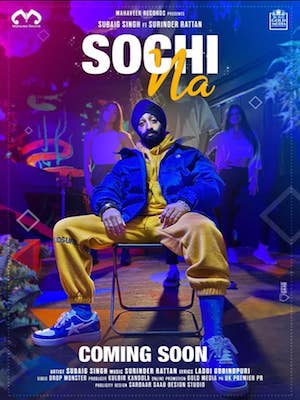 After a successful year Subaig Singh Kandola releases another track titled 'Sochi Na' featuring Surinder Rattan .. A UK garage Punjabi track!
Top Punjabi Songs from Subaig Singh are coming in thick and fast in 2020 and with the latest Punjabi songs such as Att, Vichoda, Nain Chandre, 137 Di Speed and Tofani Jatt, She Dances, Warrior, Koka Belly Da, Damn Damn, Rabaab, Flying High and Going Crazy, we are sure that Sochi Na ft Surinder Rattan is going to be one of the Top Punjabi Songs of 2020. This is an urban future garage track, in-line with the kind of music which is trending in in the UK in the late 1990s and early 2000s. A very unique and different sound from Subaig Singh.
Punjabi and English Singer 'Subaig Singh' has released his much awaited new single 'Sochi Na' ft Subaig Singh under Music Label Mahaveer Records. Sochi Na is an urban UK Garage style Punjabi Song with a with a fun, stylish and slick music video which will appeal to people of all ages. Undoubtedly one of the Top Punjabi Songs of 2020, the music video has been kept a secret to build anticipation. With the help of the amazing team listed above, the new Punjabi Songs from Subaig Singh are here to really impress. The lyrics to this song have been written by Laddi Gobindpuri.
He has released a number of other Top Punjabi Songs that are also available to view on the Mahaveer Records YouTube Channel here - http://bit.ly/Mahaveer. Apart from being one of the Worlds Top Punjabi Singers, Subaig is a Doctor, Poet, and an ex professional MMA Fighter. He is planning to release his upcoming new singles and music videos very soon so watch this space for another one of his Top Punjabi Songs.
The music video Sochi Na has been produced by Kulbir Kandola of Mahaveer Records with Music by Surinder Rattan. Drop Monster has created this video which was shot in the UK.
Subaig Singh is widely known as a singer of Classical & Folk Punjabi Music as well as Bhangra, Hip Hop, Reggae, Bollywood, Drum and Base and Reggaeton. He is truly a transatlantic phenomenon who has brought a fresh and unique sound to the world of Punjabi Classical, Folk music, Bhangra and Punjabi Pop music.
You can follow me at Follow @rupinder_rainer