Apache Indian - What's Not to Love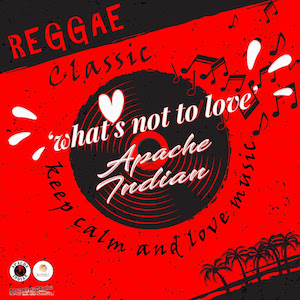 The original raggamuffin, Apache Indian is back with a fantastic new album simply titled 'What's Not to Love'!
Expect the unexpected as the Don Rajah teams up with the legendary singer-songwriter 'Hunterz' to deliver the first single from the album called 'Trip To Jamaica', a completely original classic reggae track accompanied by a desi vibe that just works so well. This tune isn't just for the dancehall but a guaranteed worldwide radio smash!
After the huge success of Tere Toor, Apache reunites with the incredible Binder Bajwa to bring you 'Giddai Vich' produced by the legendary Gubzy Music - guaranteed to elevate Panjabi dance-floors up a couple of notches!
'Look My Way' sees the Don Rajah come together with his old buddy Roach Killa and fellow Canadians Blitzkrieg and music producer Kat Eyez. Smooth lyrics and a punchy bassline will have you swaying side to side from the first listen!
Whilst Trip To Jamaica, a collaboration with the music maestro Hunterz, continues making its way across the globe, these 2 new tracks jump on the ride that's heading for one hell of a party. But this is just the tip of the musical iceberg!
Hunterz who also produced 'Trip To Jamaica' says: "This song has classic written all over it! I've always wanted to work with this legend, it really is an honour for me! Apache went to another level on his vocals with this song, his flow and delivery is pure fire! I can't wait for the world to feel these vibes! This is definitely one of my favourite collabs & also productions!"
Apache's signature style is all over the album but the fusion flavours are truly global. The reggae is there for sure but there are generous helpings of bhangra, pop, hip-hop, ska and even a reggaeton collaboration with a Spanish artist just for good measure!
Other artists featured include Roach Killa, Blitzkrieg and Kat Eyez from Toronto; Dinero Ash, Shilpa Surrock and Chezin straight outta India and Binder Bajwa who previously teamed with Apache on the hit 'Tere Toor'.
The list of contributors and tracks is long and more details will be revealed with the release of the next couple of songs from the album, be patient...it'll be worth the wait!
Apache is passionate about the first single. He says: "I have always admired and wanted to work with Hunterz. When he sent me this song, I was absolutely blown away with the production, the vocal melodies and infectious reggae vibe!
It inspired me to write my verses straight away, and the rest is history! This will go down as one of my favourite collaborations of my career! There's just something magical about this song that I cannot put into words. I'm sure it will be enjoyed across genres, generations and time.
Blessing to the legend himself, Hunterz, who has a special relationship with music and has so much more up his sleeve for the new year. Look out for more songs with us together. Blessings brother!"
'What's Not To Love' delivers the Apache Indian we all know but takes him to a new level. This album already has a place reserved in the musical hall of fame!
You can follow me at Follow @rupinder_rainer