Raf-Saperra - G'lassy Riddim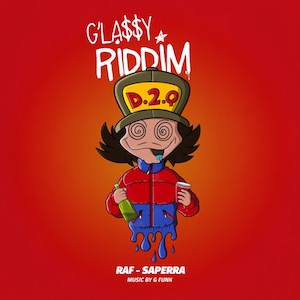 G'Lassy Riddim is set to be Saperra's debut single, the track title serves as a head-nod to the popularity of Grime 'riddim' instrumentals in the early 2000's (Nutty Violin riddim, Wifey riddim etc.), which he dovetails with reverence to his roots, producing a sound that is both unapologetically Punjabi, yet British. Staying true to his heritage. Staying true to his borough.
After producing the record-breaking title track for Diljit Dosanjh from the album G.O.A.T, we see Birmingham native music producer, G-Funk, team up with Saperra on this venture. Funk sets out to showcase his versatility as he brings us a completely different sound to what we heard from him in G.O.A.T! The grimy east coast hip-hop idiom. The screaming desi folk instrumentation. The ill-mannered, aggressive and in your face production style. Funk immediately grabs you by the neck and demands your attention on this release.
'G'lassy Riddim' will be joined by an official music video directed by Adeel Kureshii.
"Everything you have seen from me thus far culminates from my real-life struggles, my bond with music, my love for cinema and the tutelage from my mentors. To God be the Glory. Respeck." - Raf-Saperra
For those who know and for those still sitting under a rock:
Born in the south London town of Streatham, Raf-Saperra has proved to be a vocal tour de force and an enigmatic talent making waves of tidal proportions within the Asian music stratosphere since his arrival on social media in March 2020.
Upon his abrupt and unannounced entrance, word spread like wildfire about a new kid on the scene, boasting a unique, folk-orientated vocal tone and style of delivery completely juxtaposed with a certain je ne sais quois of a London native, who upon first glance wouldn't strike you as an individual containing the voice that he does. With organic views counting over half a million across social media platforms, the past 6 months saw Saperra quietly dominate the cultural conversation and rapidly build a cult following within the UK like no other British-Punjabi artist has done in recent years. As if all that was not enough, Raf, who recently was invited on-air by BBC Asian Network's very own Bobby Friction and praised about his collaboration with the world-renowned DJ Frenzy, has now also been announced as a featured BBC Introducing Artist.
You can follow me at Follow @rupinder_rainer