Subaig Singh - FlyingHigh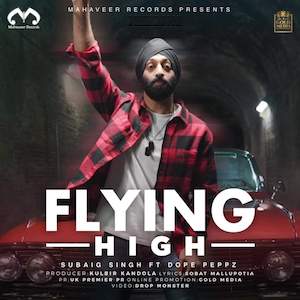 Out Now the track titled #FlyingHigh by Subaig Singh featuring Dope PeppZ on Mahaveer Records, lyrics have been penned by Sobat Mallupotia, a Kulbir Kandola production.
After the phenomenal success of 'Going Crazy' Subaig Singh continues his relentless campaign of back to back song releases with the release of a new track, 'Flying High.' The song is an urban, hip-hop style, car-cruising track, in keeping with the current musical flavours that are trending in Punjab at the moment.
Lyrics are penned by Sobat Mallupotia, a new song writer from Punjab who got in touch with Subaig on Instagram. The music has been composed by Dope Peppz and the overall project has been produced by Kulbir Kandola of Mahaveer Records.
Subaig Singh states making music during Covid-19 has proved difficult, but the positive encouragement that he has received from his fans, who look forward to his releases has been incredibly motivational and heart-warming.
Subaig comments that working with India based Dope Peppz once again has proved a great experience because he is such a fan of their previous music, especially the drum n base track, Jungle, which was produced by Dope Peppz for Subaig, and was released only two months ago.
Speaking about 'Flying High', Subaig said: I wanted to try something different and sing a modern Punjab style hip hop track, in line with the kind of music which is trending in Punjab today, and made popular by artists such as Sidhu Moosewala and Karan Aujla. I love to experiment with different styles and surprise my audiences, keeping them on their toes!
'Flying High' again proves Subaig Singh's versatility when it comes to his music by delivering hit after hit, in a variety of different genres.
Due to the nature of COVID-19 guidelines, 'Flying High' music video had to be shot with limited resources. The video was shot by Drop Monster, resulting in a simple and effective UK style urban Punjabi music video, which is in keeping with the genre of music.
You can follow me at Follow @rupinder_rainer