Raashi Sood - Chhad Nakhre Karle Pyaar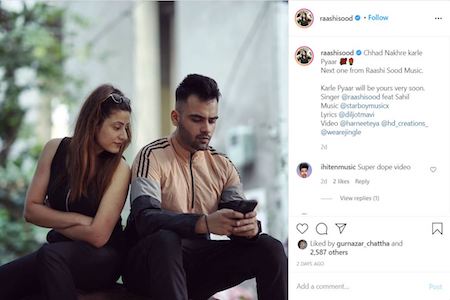 Recently Punjabi singer Raashi Sood teased about her upcoming song which was shared on her Instagram handle.
Raashi wrote: "Chhad Nakhre Karle Pyaar 💯🌹
Next one from Raashi Sood Music." On her post. What we take on from this is, the artist's next single titled "Karle Pyaar" featuring Sahil is set to release, out real soon!
Karle Pyaar is the fourth track out of the highly anticipated album Se(ven)timents. It narrates the tale of a girl, madly in love with a boy who she thinks ignores her attempts of proposal. In the end, the boy finally professes his love for the girl giving the song a happy ending.
The music is composed by StarBoyMusicX, lyrics penned by Diljot Mavi, and filmed by Harneet Singh (HD Creations).
You can follow me at Follow @inerdbrat