Subaig Singh – Going Crazy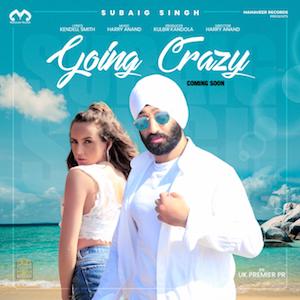 From his recently released track "Jungle" which gathered a positive response, Subaig Singh Kandola is ready for a brand new single track release titled "Going Crazy", coming soon via Mahaveer Records.
Recognised as a true budding talent in the music fraternity, Subaig Singh's energy and hard work ethic has resulted in this season being most productive season of his musical career. Following the success of his last single 'Jungle', Subaig is gearing up for yet another release that will be launched on Thursday 8th October by Mahaveer Records. The new track is a taking Subaig Singh into a totally different league.
The song is a Reggaeton dance track with flavours of commercial reggae from the era of Shaggy and Raven in the late 90s and early 2000s. This fresh release is directed by award-winning Bollywood producer Harry Anand and the lyrics are written by Kendell Smith, a well-known singer, song-writer and reggae artist. The video is set on a breath-takingly scenic beach in Goa, resembling something out of a Bollywood film. The rhythm of the song shines through, creating a unique flow that fans will love. 'Going Crazy', is a beach dance-club anthem combining Subaig's signature smooth vocals, with Kendell Smith's lyrical flow. Their style works seamlessly well with each other.
The track is produced by Kulbir Kandola, who has yet again, proved herself by consistently creating high quality work, backed by a vision that aims to firmly mark Mahveer Records on the map, as a respected record label and production company.
About the track, Subaig said, "I'm feeling super excited about 'Going Crazy'. It is a club banger that is going to get everyone moving! I am looking forward to seeing how the audiences react to this track, which sees me taking on a completely different genre and style of performance. I don't think anyone will expect this from me!'.
In a year like no other, the West Midlands based multitalented artist, Subaig Singh, has excelled in his career by working with some of the biggest names in the industry. But we are not just talking about his singing talent. Subaig's supporters and fans will soon see him on the big screen as well. October is an exciting month for Subaig Singh, firstly with the release of 'Going Crazy', then 29th October will see the release of 'Taish', directed by Bejoy Nambiar, a Bollywood blockbuster staring Pulkit Samrat, Harshvardan Rane, Jim Sarb, Kirti Kharbanda and Sanjeeta Shaikh. Subaig's fans will see Subaig play the role of Bagga, a gangster in the Punjabi underworld of the UK. 'Taish' will premiere on the 29th October on Zee5 as a 6-episode series simultaneously as well as a feature film.
You can follow me at Follow @inerdbrat