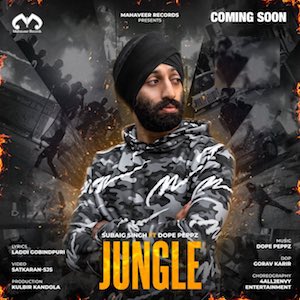 After a long gap caused by the COVID-19 lockdown, Subaig Singh returns to the music scene with a brand new song release entitled 'Jungle' is something a bit different for Subaig.
"Inspired by the likes of music producers such as Punjabi MC who caught the public's imagination in the late 90s by combining Punjabi Folk music with Jungle, Subaig has also decided to experiment with UK Drum N Base flavours in this latest track.
The lyrics penned by Laddi Gobindpuri describe the unfairness of the world we live in and how, beneath a facade of civility, the laws of the Jungle very much apply to human existence as well. The music has been composed by Dope Peppz and the overall project produced by Kulbir Kandola of Mahaveer Records.
Subaig says that recording new music during the COVID-19 pandemic has felt like "therapy" for him as he has been otherwise isolated at home.
Although work on the track track was started before the beginning of lockdown, Dope Peppz and Subaig continued to work on finalising the music, as coronavirus was rampaging across the UK
Subaig Singh said: 'During these difficult times and scary times, music has been the only thing that has kept me sane and it has been a real life saver'
Subaig admits that the opportunity to work with India based Dope Peppz has been a great experience because he's such a fan of their previous music, which includes songs such as Positive Jatt and Note sung by Prem Dhillon and Maybach, sung by Karan Aujla and J Swag.
Speaking about their collaboration, Subaig said: "These guys just appeared at the right time in my life. We have never actually met in real life. All of this has been done over the internet and creatively speaking, we just clicked. I am impressed by their work ethic, their versatility and their willingness to try different things'
This single is totally different to previous tracks that Subaig Singh has worked on before and this talented singer has proved his versatility when it comes to his music by delivering hit after hit, in a variety of different genres.
Due to the nature of COVID-19 guidelines, this music video had to be shot in Birmingham with limited resources . The video was shot by Gorav Karir in the U.K. and edited by Satkarn-SJS in India, resulting in a simple and effective UK style urban Punjabi music video, which is in keeping with the genre of music.
Subaig Singh has made his mark in the industry from day one by choosing his projects wisely and climbed the ladder to success which has given him a strong foot hold in the music industry.
With life starting to normalise, Subaig is planning back to back releases on the Mahaveer Records label, and with the help of Gold Media online promotions team, is planning to make some serious noise in India this year as well.
You can follow me at Follow @rupinder_rainer