Desi Dark Child - Back to Back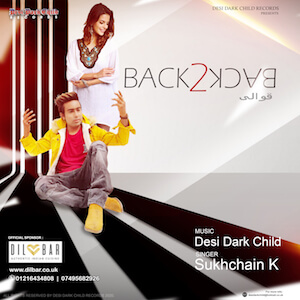 DESI DARK CHILD RECORDS are very pleased to announce the release of the single titled "BACK TO BACK", ft the wonderfully melodic singer Sukhchain Khosla.
Sukhchain who is the first blood related nephew of the legendary Late Sabar Koti Ji. We are so pleased to release this song, which was originally sung by the legendary Nusrat Fateh Ali Khan, who is the Godfather of Qawwali music. It is an honor to having another talented singer from Sabar Koti ji family. I would like to thank Rajesh Bhairon who saved the day on the last minute with his powerful backing vocals which was needed for this song. Rajesh is another upcoming talented singer from my family who has done the many things in music behind the scenes. With gods blessing one day you will all hear him sing a solo song.
Back on 2012 during the course of recording of this song Sabar Koti himself guided every word sang by Sukhchain to perfection. When you have legends working in a recording session, they will leave no room for any mistakes. It was Sabar ji's wish that Sukhchain would sing the song as requested to me, as it will be a lot to display his ability to sing such a big song with such vocal ability. The lyrics were however adjusted in order to get the younger audiences to enjoy and sing along with our Qawwali.
The song will be released on 6 th August 2020 on all major digital platforms across the world.
You can follow me at Follow @rupinder_rainer