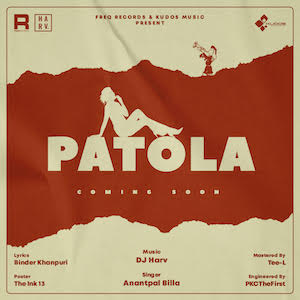 DJ Harv returns with his 4th single 'Patola' featuring the dynamic voice of Panjab based singer 'Anantpal Billa'.
It has been almost two years since DJ Harv released his last single, '3 Saal' which accumulated 3.5m organic views on Youtube.
Due to the COVID-19 outbreak, DJ Harv has had the rare opportunity to break from his hectic DJ schedule to focus on creating new music. As such, DJ Harv has been able to scout for new lyrics and singers whilst working on a new sound and he feels 'Patola' really represents his true musical persona.
'Patola' has everything from a tumbi to a trumpet with heaps of bass. It is a UK Bhangra song, fresh, upbeat and fun with plenty of good vibes. DJ Harv credits this as his best work to date and hopes it will gain or exceed the response of his debut single 'Darshan' which shot to number one on the BBC Asian Download Chart in 2016.
'Patola' is the first song from DJ Harv's upcoming 6 track EP which is set for release later this year by music label FREQ Records who are based in Toronto, Canada.
You can follow me at Follow @rupinder_rainer