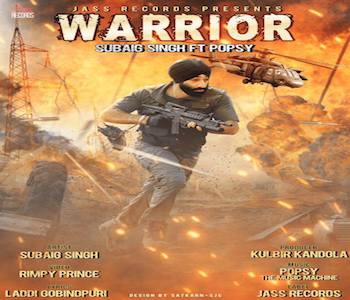 Subaig Singh once again teams up with Popsy The Music Machine and Rimpy Prince for the release of his brand-new track called "Warrior".
Once again, Subaig outdoes himself by bringing to light the martial character of Sikh Sardar Warriors who are proud of their heritage as great soldiers and as being defenders of both the weak and of the nations in which they live and serve. Though not a religious or patriotic song by any means, the video is set to glorify the bravery and martial prowess of Sardars in a commercial sense through fantasy and fictional story telling. With epic battle scenes, sword fighting and gritty slow-motion shots, expertly shot using a Phantom camera, this video really is a one-off masterpiece and is a source of great pride to Rimpy Prince and all of those involved in this project.
The musical production is very different from Subaig's usual work. Hard hitting old-skool hip-hop, creatively mixed in with intricate dhol pieces and modern trap beats, Popsy has created a unique sound, upon which Subaig's hard hitting vocals masterfully deliver the forceful lyrics, penned by Laddi Gobindpuri.
Subaig looks right at home in this video, with his heroic demeanour, reminiscent of Sunny Deol in the hit Bollywood film, Border. As an ex-professional Mixed Martial Arts cage fighter and an enthusiast of Punjabi history and culture, this project is about a subject that is very close to his heart.
The video is shot and directed by Rimpy Prince in Mohali, Punjab, the lyrics are penned by Laddi Gobindpuri and the music produced by Popsy The Music Machine. The overall project has been produced by Kulbir Kandola and this song is releasing under the Jass Records banner.
2020 is definitely going to be a game-changing year for Subaig Singh with a number of new upcoming releases and collaborations with key music directors and artists in the industry, and not forgetting his film debut with an all-star cast in 'Taish' - an Indian revenge film directed by Bejoy Nambiar.
You can follow me at Follow @rupinder_rainer