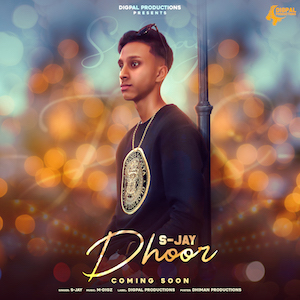 S-Jay will no doubt pave his own way into Punjabi Music Scene with his debut release.
S-Jay is the new generation breaking into the UK Bhangra music scene. From a young age the U.K. born singer was fanatical about music and always had the fantasy of one day having his own hallmark on being able to release his music. S-Jay started his vocal training at the age of 12 being inspired by the likes of renowned singers such as Sardool Sikandar, Hans Raj Hans, Kuldeep Manak, Satinder Sartaj but to name a few. Within such a small space of time, dedication and with his unconditional love for music, S-Jay has well and truly advanced his vocals to a significant standard.
As well as being a remarkable young singer at the age of 16, S-Jay enjoys playing football, travelling and writing songs. However, his passion and love remain with music as S-Jay continues to listen to his music library wherever and whenever possible. S-Jay listens to all genres of music as he likes to analyse and implement the different styles of music to his own.
S-Jay will no doubt pave his own way into Punjabi Music Scene with his debut release. The pulsating singer does not do anything in halves, having gone through rigorous music and vocal training; he has shown that the only way to pursue music is to learn, practice and to always have room for improvement. This breath of fresh air to the Asian UK Industry will truly make a remarkable impression with his debut release of 'DHOOR' which was originally sung by his Idol Sardool Sikandar. The reason why S-Jay chose to do this song is because he has always admired Sardool Sikandar and this is one of his favourite songs sung by him. He would never exhaust himself in listening to this song over and over again.
This is S-Jay's first real recording experience which has given him the chance to express his vocal style on the track. One of the biggest ambitions for S-Jay was to be able to have a release of his on vocals on a professional recording. This track clearly shows the vocal capability that S-Jay has. With the sensational music by debuting producer M-Digz and the exceptional video by Video Wala this is definitely a track for S-Jay to make his mark and begin his new musical journey.
You can follow me at Follow @rupinder_rainer