Subaig Singh - Koka Belly Da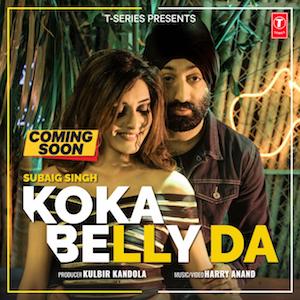 Subaig Singh is back with his eagerly anticipated brand new hit single ''Koka Belly Da'' releasing to a worldwide audience!
The single is releasing through T-Series, Music, Video and Lyrics by Harry Anand, Producer Kulbir Kandola.
Inspired by the sounds of Bollywood style beats, Subaig Singh blends his inspirations into one concoction that'll get you turning your head; and volume dial up this summer.
2019 has seen Subaig Singh move into uncharted territory, deviating away from traditional folk but yet articulating a modern sound that is wholly his own.
With Subaig Singh continuing to make his mark on the international music scene, over 90,000 people witnessed Subaig's outstanding performance at the OLA Birmingham & Sandwell Mela on Sunday 21st July, same stage as international artists such as Sardool Sikander, Amar Noorie, Falak Shabir to name a few.
Subaig's unique style and personality has garnered him a loyal following that continues to grow. A true artist whose star is only just beginning to shine.
You can follow me at Follow @rupinder_rainer