Desi Dark Child - Deadly Sin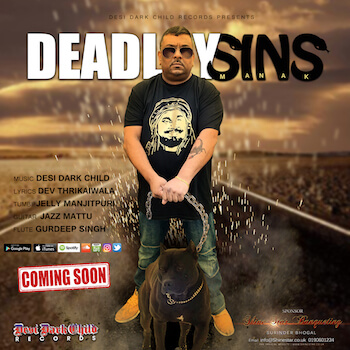 Desi Dark Child Records are thrilled to announce the first release of 2019 with the latest Single ft Kuldip Manak the icon of folk music titled DEADLY SIN!
DDC has been busy in the making of this track and been sorting out the complications in clearing the copyrights for this song to mix it officially. DDC has finally managed to work his magic once again on a song that was originally released 3 decades ago. The song is featuring the iconic folk singer late Kuldip Manak Ji along with the legend lyricists Dev Thrikiawala who had always written for K Manak for many decades.
DEADLY SIN'S track will be, available on mainstream digital paid download sites like iTunes, Spotifiy and Cd baby. The single will be releasing on 29th May 2019!
DDC records like to thank everyone who has been involved in DEADLY SIN'S recording. A lot of people do remixes that are not official mixes due to complications with getting copyrights. While this has always been a issues DDC step it up and managed to chase the original owners for written rights to remix and remake the song so it can be re-launched for today's generation. Understandably sometimes this can be a right mission and headache, the owners where very helpful and supported DDC in remaking of the song.
Desi Dark Child is always eager to help and work with fresh talent but at times you cannot just beat a good old mix specially if you own your own studio like DDC does. DDC being known to many who follow his music will know he is a well established producer who has done many big projects with very big names of the folk bhangra industry and has proven at times a video does more damage then good.
In 2019 DDC will be bringing host of new songs that will give you goose bumps and make you want to listen to the song allowing you to have new memories.
You can follow me at Follow @rupinder_rainer {jcomments off}