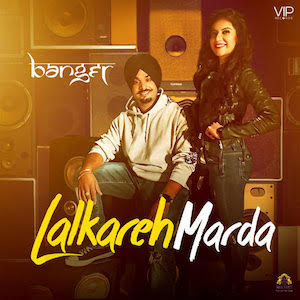 Banger is back with his highly-anticipated brand new single Lalkareh Marda!
This is the ninth track to be released by the UK based Punjabi singer. 'Lalkareh Marda' takes Banger down a different path to his usual lyrical style with this Anthem, which will have you hooked and no doubt on the dance floor.
'Lalkareh Marda' features a musical production by one of India's finest music producers Nikku (Supersonic Productions) alongside the raw vocals of Banger who maintains his unique traditional and folk style, and lyrics are penned by Pargat Kotguru. This track is certain to have you captivated and dancing and will have you dropping "lalkaareh and "bruaahs" all night long.
Banger is an artist who has a great passion for Punjabi folk music and we are all too familiar with this Birmingham born Artist and his talent is not only in singing but also showcasing his bhangra moves. "I am proud of my Punjabi heritage and Punjabi music. I always aim to portray this in my songs. I hope this is reflected through my lyrics in this new single 'Lalkareh Marda.' I have returned after a short break from the music industry with this Banger and will be working hard on other singles soon to be released" – Banger.
You can follow me at Follow @rupinder_rainer