Reverb Dholis ft. Bakshi Billa - Dhol Teh Duggeh (Video)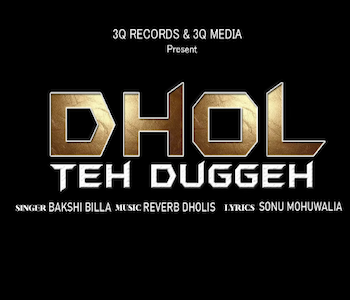 "Reverb Dholis" & "Bakshi Billa" have come together to bring you the third track from 'Bakshi Di Tape' titled 'Dhol Teh Duggeh.'
The song's taken from the brand-new album by "Bakshi Billa" titled "Bakshi Di Tape". The song features Algozey and Tumbi by "Runner (Runveer Singh)" and has been mixed & mastered by "Suki Chand".' The lyrics for 'Dhol Teh Duggeh' have been penned by "Sonu Mohuwalia" and the video has been shot by "Sonu Sekhon" and "Delraj Takher".
"Reverb Dholis," founded by "Bally Mehmi" and are based in the Midlands. The team consists of members "Bally," "Aarun"," Anil Bainzy"," Ryan"," Raj Birdi"," Sukh"," Dilraj" and" Rachel" + more.
Background on "Reverb Dholis" team members:
"Bally" – Born and raised in Wolverhampton. First instrument was Violin at the age of seven. Achieved an A-Level in Music and has since learnt how to play various percussion (Tabla/Dhol/Dholki/Drums etc). First Dhol gig was alongside "PBN" (Shout out to "Lally Sanj Meghowalia") at Players Nightclub in Wolves. Started live shows with "Bally Gill" and has since been touring the world with his team "Reverb Dholis." The inspiration for music production came from recording in studio sessions with artists such as "Juss Musik" and "Suki Chand."
"Ryan" – Started playing Dhol at the age of three. Self-taught Dhol Player who started playing alongside various DJ's and "Bally" from "Reverb Dholis."
"Aarun" – I went to India for 3 months where I learnt the basics of playing Dhol. Came back to the UK & started learning from my Ustaadji "King Gurcharan Mall" and played alongside "Dhol Blasters." I continued my journey by touring & joining "Reverb Dholis."
"Anil Bainzy," started playing Dhol at an early age. Started by teaching myself and then taking lessons with Ustaadji "King Gurcharan Mall" (Dhol Blasters) at Holyhead School, Played in front of the queen (RIP) in Birmingham at Royal Symphony Hall, fast forward 20 years now and I'm doing shows i.e., weddings/parties and even catching flights to play Dhol alongside "Reverb Dholis". We have played Dhol for The Lord Mayor in London at The London Parade & performed with Artists such "Raf Sappera."
"Kyle," 15 years old and I found my passion for Dhol at an early age. My father plays and watching him whilst growing up inspired me to learn myself. I started going to shows which encouraged me to widen my knowledge of the Dhol. I met "Bally" through my father which led me to joining the "Reverb Dholis" family.
"Reverb Dholis" & "Bakshi Billa" have come together to bring you the third track from 'Bakshi Di Tape' album titled 'Dhol Teh Duggeh.'
You can follow me at Follow @rupinder_rainer