Tank Feat. J-Deep & Sandy Sandhu - Daave Daari (Video)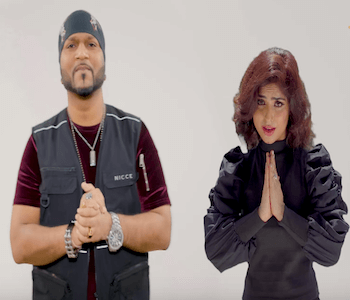 '3Q Records' & '3Q Media' proudly represent Music Producer "Tank" with his second duet single titled 'Daave Daari'.
The song features vocals by 'J-Deep' and 'Sandy Sandhu.' The song has been mixed by 'Amit Fire-Tiger Mattu' and mastered by 'Simon Subs Duggal'. The lyrics for 'Daave Daari' have also been penned by 'J-Deep' and the video has been shot in India by 'Sonu Sekhon.'
'J-Deep' was born and raised in India, moved to the UK in 1991 and began his musical career touring with 'Malkit Singh'. While touring he was introduced to his Ustaad Ji, Music Director and Writer 'Baldev Mastana.' Jay's talent fuses folk inspired lyrics weaving the diverse sound of British-Asian composers and he has released great hits over the past 10 years such as "Russi Russi", "Kachey Dhaghey", "Boliyan" and "Pehle Gede First Round" album + many more. The talented singer songwriter has also been nominated for multiple awards at the 'PTC Punjabi Awards' and 'UK Bhangra Awards'.
'Sandy Sandhu', born and raised in India and is also the daughter of Folk legends 'The Late Kartar Ramla Ji' and 'Parmjeet Sandhu.' The parents who inspired 'Sandy' to pursue a career in singing, dancing, and acting. The beginning of her journey started when she won both 'Awaaz Punjab Di (S2)' and 'Karamyudh' on MH1. Since these great achievements 'Sandy' has gone on to releasing hit songs such as "Bodyguard," "Tha-Tha," "Great-Jodi" and "Daaru Pee Ke" + many more. 'Sandy Sandhu' has also featured in movies such as "Dil Apna Punjabi" with 'Neeru Bajwa' and in an upcoming film titled "Pind Di Pukar."
'Tank,' 'J-Deep' and 'Sandy Sandhu' have now come together to bring you a duet titled 'Daave Daari.'
You can follow me at Follow SimplyBhangra.com