Sukhbir feat. Arjun - Nachdi (Video)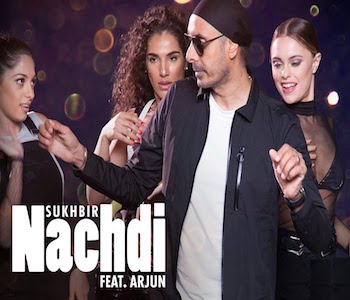 The Prince of Bhangra's latest release, Nachdi, is a super-catchy rhythm with his signature style that pulls you out of your chair and onto the dancefloor.
The lyrics are very singable as always, celebrating the moment when the woman of your dreams starts dancing with you. The chorus is a party anthem for sure, followed by a flawless rap breakdown in English by singer-songwriter, Arjun. Sukhbir wrote and composed all the music himself, so you know this song is coming at you straight from his heart.
The video was shot in London by Simon Fellows, who also made his most popular videos like Ishq, Punjabi Munde and Gal Ban Gayee. To give this track global appeal, they brought in talented dancers from around the world. They all groove in their own styles to give the video an authentic, euphoric vibe that makes you feel like you're in the club with them. Sukhbir, as always, oozes charisma as you see him in his element, revelling in music.
As modern as it sounds, Nachdi has been in the making for many years. In fact, it was originally released in an earlier album. This year, during the lockdown, while reminiscing and listening to old recordings, Sukhbir found this gem and decided to make it shine again. He was determined to release it at the beginning of 2021 as a sign of hope and positivity.
You can follow me at Follow @rupinder_rainer