Preety G, Luc Skyz, Mehi, G Soni - Without You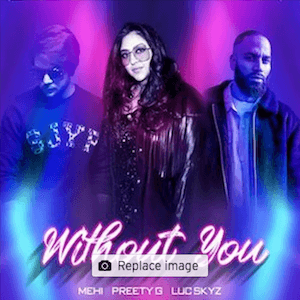 GHRU MUSIC is excited to introduce our next release 'Without You' Featuring the vocals of Preety G, Luc Skyz & Mehi. Carefully crafted and Produced by G Soni.
'Without you' is a romantic song with a Punjabi & Hindi fusion to give it a real commercial Bollywood vibe, along with some catchy UK rap vocals to give it an edge and really complete the song with a creative mix of vocal backgrounds and abilities. This song was truly made for Summer, it has an Urban-Pop feel to it with hints of soft Latin touches to beautifully mold together the essence of the Romance in this song. It's a feel good song, and is no doubtedly one to have on repeat.
Preety G
Born & raised in Chelsea, South West London, Preety has always carried her passion for Indian and Western Music from a young age. Singing and entertaining family & friends at home gatherings and parties was always something she did with pure effort and determination to perform at her bestest. After years of convincing and the ongoing support from family & friends, Preety decided to take the next step in turning her passion into something more real and official. Whilst still learning and taking lessons, this is only the beginning in Preety's journey and an introduction to what she can offer to our British Asian Music scene.
Luc Skyz
Hailing from North West London, Rapper Luc Skyz is no doubt a versatile Artist. With passion, flair and undeniable lyrical talent and flow, this is what shapes him as an Individual and gives him the ability to shift his flow on any given Song. After listening to the likes of hip hop icons such as Wu Tang Clan, A Tribe Called Quest, Pharcyde & Nas to name but a few. A twelve year old Luc Skyz first picked up a pen and a pad and attempted to write his own Rap lyrics. Like any skill, it was something he had to develop. Performing at the Prince's Trust Urban Music Festival alongside legendary Artists like Jay Z, Beyonce, Alicia Keys and more. The encouragement and support that followed from his performance led to the single "F with Skyz" which achieved regular airplay on BBC 1Xtra, Choice FM, Kiss 100 videos and also aired on MTV Base. Luc is most definitely one to watch out for.
Mehi
Mehi is no stranger to the Punjabi and Asian Music scene with an unorthodox & versatile mindset. He continuously offers a variety of different vocal abilities from Urdu Qawwali style, Folk Punjabi, Hindi and even Punjabi and English Rap on some of his recent projects. With years of Classical Music experience, learning, developing and perfecting his vocal ability and understanding of the Art of Sound and Production has always been an ongoing objective. Mehi has released 6 solo Singles & a separate 8 Track Album 'GIFT' under GHRU MUSIC, all within a year. Having had positive support from mainstream Radio Stations such as BBC Radio 1, he was also showcased on the BBC Asian Network as an Introducing Artiste of the Week by Bobby Friction for his Album 'GIFT' which received an immense amount of positive feedback. Mehi is here to stay, and is determined to shift the mindset of listeners to appreciate what Singing truly is about; Technical skills.
G Soni
A perfectionist & a visionary in his own right. Signed to GHRU MUSIC; G Soni is the Mastermind behind all the creative Production releases. Having studied Classical Sangeet back in India; The Tabla was one of the first percussion lessons learned under a well established and respected Guru 'Pandit Rama Kanth Ji'. This interest in Music only grew with age and time, as G Soni began to find his own feet experimenting with Music within contemporary sounds. Always looking to move with the times, yet staying loyal to his roots. G Soni is meticulous when it comes to his approach with Production, Mixing and Mastering. Some of his tracks released were under T - Series India and Sony BMG India which received much recognition.
You can follow me at Follow @rupinder_rainer